Dental Implants – A Natural Solution for Missing Teeth
At Kingsland Family Dental Care, we use Dental Implants to replace missing teeth because they are very similar to your natural teeth and provide you with a long-term solution for your oral health and wellness.
How Do Dental Implants Work?
The Dental Implant procedure is a multi-step treatment that requires patients first to undergo oral surgery to place the Dental Implants into their bone. After the initial surgical placement of your dental implant, we allow time for them to heal, which is typically three to six months. During this time the dental implant post fuses with your bone, in a process known as osseointegration, creating a strong base to support your dental crown.
Once the healing period is complete, we complete the restoration with a custom porcelain dental crown. We will match the shade to blend seamlessly with your existing teeth—no one will ever know that you have an implant.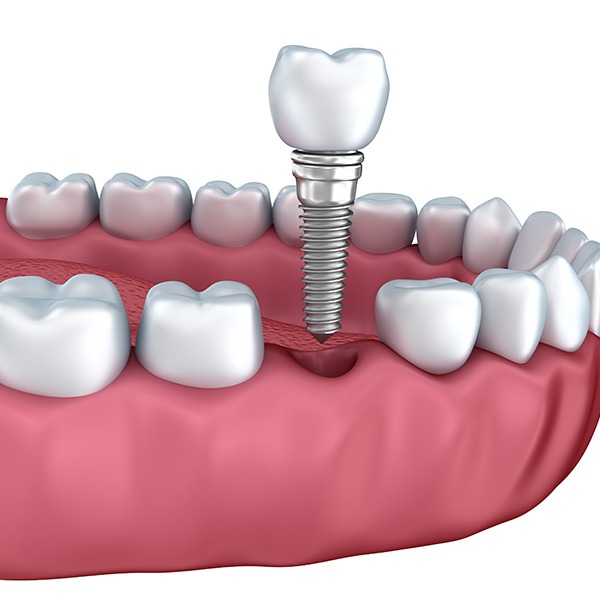 What are the benefits of Dental Implants?
There is a significant improvement in the overall quality of life for patients who have implant-supported or retained dentures, as opposed to standard or conventional (free-floating) dentures.
Dental Implants maintain, or realign, facial structure and profile, and preserve bone.
Dental Implants are easy to clean and do not decay.
Dental Implants help to preserve adjacent natural teeth. With an implant-supported bridge, there is no need to stress or traumatize adjacent natural teeth in order to hold the bridge in place. Traditional removable partial dentures also place stress forces on the remaining natural teeth.
Dental Implant-supported crowns and bridges have a longer functioning life than conventional crowns and bridges placed over natural tooth structure.
Dental Implants help to prevent the appearance of premature aging due to bone loss. Osteoporosis can accelerate bone loss in patients using standard or conventional dentures.
Patients who wear conventional full dentures often experience difficulty eating, speaking, and smiling. Dental Implant-supported dentures virtually eliminate embarrassing denture slippage. The implants 'anchor' the dentures.
Dental Implants are cost-effective when taking into account the functioning life of the implant.
To learn if you are an ideal candidate for a Dental Implant, please contact Kingsland Family Dental Care at (403) 255-1591.